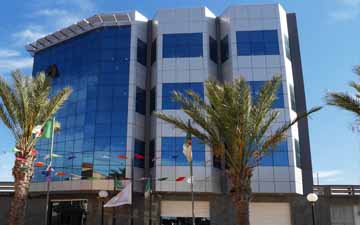 sorfert Algerie is a joint venture between OCI N.V., which owns 51%, and Sonatrach, which owns 49%. sorfert is an excellent illustration of a successful Algerian partnership between Sonatrach and an international investor.
World-class production complex
sorfert is the one of the largest integrated nitrogen fertilizer producers in North Africa, capable of producing 1.26 million metric tons of granular urea and 1.6 million metric tons of gross anhydrous ammonia per year.
OCI constructed the plant in partnership with Thyssenkrupp Industrial Solutions (TKIS, formerly Uhde), which supplied the state-of-the-art proven process technology. The plant's construction was completed in 2013 and achieved its first full year of operation in 2014.
The plant consists of two identical ammonia lines and one urea line. One ammonia line is dedicated to urea production and the other produces merchant capacity.